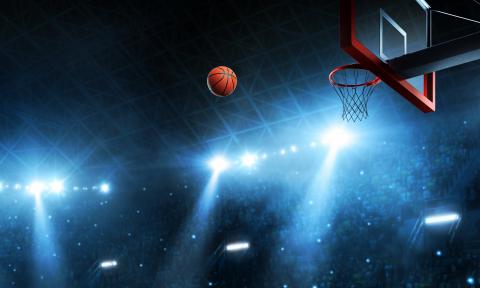 2023-2024 Pro Basketball Packages
Get prime seating at the game plus premium accommodations at TripAdvisor's #1 Hottest New Hotel in the US! Located just a half-mile from Chase Center, LUMA Hotel San Francisco is the first hotel in the Mission Bay neighborhood and makes an ideal home base for Dub Nation.
Book our Pro Basketball Package and enjoy deluxe accommodations + two tickets to see the game from Chase Center Suite S11.
The suite is located on the main suite concourse and offers balcony seating for up to 16 people with an outstanding view of the court, in addition to a dining room with seating for 8, living room with sofa, and two televisions. A catered selection of beer, wine, and food is provided by Chase Center at the beginning of the game.
Tickets are limited so reserve your spot today!
Packages go on sale at 10am Pacific Time, 21 days in advance of each game.
Packages are pre-paid and nonrefundable.
Food and beverage catering in the Club Suite is selected by Chase Center and made available to all suite guests in common as a one-time offering. It is not replenished once exhausted; your courtesy is appreciated. Additional food and beverage is available for purchase.
Your use of the Club Suite is subject in all respects to any and all policies, rules and regulations of the third party suite provider and its affiliates, which parties are not affiliated with LUMA Hotel San Francisco and are not responsible for any liability that may arise out of your use of the Club Suite.
Schedule
Golden State Warriors
vs. Sacramento Kings
Wednesday, October 18 7:00PM PST
On Sale Tuesday, October 3 at 10:00AM Pacific Time
Golden State Warriors
vs. Phoenix Suns
Tuesday, October 24 6:00PM PST
Golden State Warriors
vs. Sacramento Kings
Wednesday, November 1 6:00PM PST
Golden State Warriors
vs. Cleveland Cavaliers
Saturday, November 11 5:30PM PST
Golden State Warriors
vs. Minnesota Timberwolves
Sunday, November 12 5:30PM PST
Golden State Warriors
vs. Minnesota Timberwolves
Tuesday, November 14 7:00PM PST
Golden State Warriors
vs. Oklahoma City Thunder
Thursday, November 16 7:00PM PST
Golden State Warriors
vs. Oklahoma City Thunder
Saturday, November 18 5:30PM PST
Golden State Warriors
vs. Houston Rockets
Monday, November 20 7:00PM PST
Golden State Warriors
vs. San Antonio Spurs
Friday, November 24 7:00PM PST
Golden State Warriors
vs. Los Angeles Clippers
Thursday, November 30 7:00PM PST
Golden State Warriors
vs. Portland Trail Blazers
Wednesday, December 6 7:00PM PST
On Sale Wednesday, November 15 at 10:00AM Pacific Time
Golden State Warriors
vs. Brooklyn Nets
Saturday, December 16 5:30PM PST
Golden State Warriors
vs. Boston Celtics
Tuesday, December 19 7:00PM PST
On Sale Tuesday, November 28 at 10:00AM Pacific Time
Golden State Warriors
vs. Washington Wizards
Friday, December 22 7:00PM PST
On Sale Friday, December 1 at 10:00AM Pacific Time
Golden State Warriors
vs. Portland Trail Blazers
Saturday, December 23 5:30PM PST
On Sale Saturday, December 2 at 10:00AM Pacific Time
Golden State Warriors
vs. Miami Heat
Thursday, December 28 7:00PM PST
On Sale Thursday, December 7 at 10:00AM Pacific Time
Golden State Warriors
vs. Dallas Mavericks
Saturday, December 30 5:30PM PST
On Sale Saturday, December 9 at 10:00AM Pacific Time
Golden State Warriors
vs. Orlando Magic
Tuesday, January 2 7:00PM PST
On Sale Tuesday, December 12 at 10:00AM Pacific Time
Golden State Warriors
vs. Denver Nuggets
Thursday, January 4 7:00PM PST
On Sale Thursday, December 14 at 10:00AM Pacific Time
Golden State Warriors
vs. Detroit Pistons
Friday, January 5 7:00PM PST
On Sale Friday, December 15 at 10:00AM Pacific Time
Golden State Warriors
vs. Toronto Raptors
Sunday, January 7 5:30PM PST
On Sale Sunday, December 17 at 10:00AM Pacific Time
Golden State Warriors
vs. Chicago Bulls
Wednesday, January 10 5:30PM PST
On Sale Wednesday, December 20 at 10:00AM Pacific Time
Golden State Warriors
vs. Dallas Mavericks
Friday, January 19 7:00PM PST
On Sale Friday, December 29 at 10:00AM Pacific Time
Golden State Warriors
vs. Atlanta Hawks
Wednesday, January 24 7:00PM PST
On Sale Wednesday, January 3 at 10:00AM Pacific Time
Golden State Warriors
vs. Sacramento Kings
Thursday, January 25 7:00PM PST
On Sale Thursday, January 4 at 10:00AM Pacific Time
Golden State Warriors
vs. Los Angeles Lakers
Saturday, January 27 5:30PM PST
On Sale Saturday, January 6 at 10:00AM Pacific Time
Golden State Warriors
vs. Philadelphia 76ers
Tuesday, January 30 7:00PM PST
On Sale Tuesday, January 9 at 10:00AM Pacific Time
Golden State Warriors
vs. Phoenix Suns
Saturday, February 10 5:30PM PST
On Sale Saturday, January 20 at 10:00AM Pacific Time
Golden State Warriors
vs. Los Angeles Clippers
Wednesday, February 14 7:00PM PST
On Sale Wednesday, January 24 at 10:00AM Pacific Time
Golden State Warriors
vs. Los Angeles Lakers
Thursday, February 22 7:00PM PST
On Sale Thursday, February 1 at 10:00AM Pacific Time
Golden State Warriors
vs. Charlotte Hornets
Friday, February 23 7:00PM PST
On Sale Friday, February 2 at 10:00AM Pacific Time
Golden State Warriors
vs. Denver Nuggets
Sunday, February 25 4:00PM PST
On Sale Sunday, February 4 at 10:00AM Pacific Time
Golden State Warriors
vs. Milwaukee Bucks
Wednesday, March 6 7:00PM PST
On Sale Wednesday, February 14 at 10:00AM Pacific Time
Golden State Warriors
vs. Chicago Bulls
Thursday, March 7 7:00PM PST
On Sale Thursday, February 15 at 10:00AM Pacific Time
Golden State Warriors
vs. San Antonio Spurs
Saturday, March 9 5:30PM PST
On Sale Saturday, February 17 at 10:00AM Pacific Time
Golden State Warriors
vs. New York Knicks
Monday, March 18 6:00PM PST
On Sale Monday, February 26 at 10:00AM Pacific Time
Golden State Warriors
vs. Memphis Grizzlies
Wednesday, March 20 6:00PM PST
On Sale Wednesday, February 28 at 10:00AM Pacific Time
Golden State Warriors
vs. Indiana Pacers
Friday, March 22 6:00PM PST
On Sale Friday, March 1 at 10:00AM Pacific Time
Golden State Warriors
vs. Utah Jazz
Sunday, April 7 4:30PM PST
On Sale Sunday, March 17 at 10:00AM Pacific Time
Golden State Warriors
vs. New Orleans Pelicans
Friday, April 12 6:00PM PST
On Sale Friday, March 22 at 10:00AM Pacific Time
Golden State Warriors
vs. Utah Jazz
Sunday, April 14 11:30AM PST
On Sale Sunday, March 24 at 10:00AM Pacific Time